How to Chip in for Save the Children
---
Save the Children changes lives, providing early education programs and resources to America's children living in rural poverty. When you choose the Flare Account Save the Children Charity Debit Card,1 you can support their lasting, life-changing work simply by spending as usual.

How to Get a Card
---
1. Apply for a Flare Account
2. Choose the Save the Children Debit Card in the application.
3. Spend as usual! Populus Financial Group donates to Save the Children based on how much you spend.1
There's no additional cost to donate and no extra work required. Just spend and feel good for knowing that you're contributing to a great cause.
Get Started

Already Have a Flare Account?
---
You can switch from a classic debit card to a charity debit card in just a few clicks!

1. Log in to the ACE Flare Mobile App3 or Online Account Center.
2. Navigate to "Account" and select "Card Settings".
3. Select "Order Another Debit Card" and choose the charity debit card of your choice in the "Standard" card options.

Note: A one-time fee of $3.95 applies.

Sign In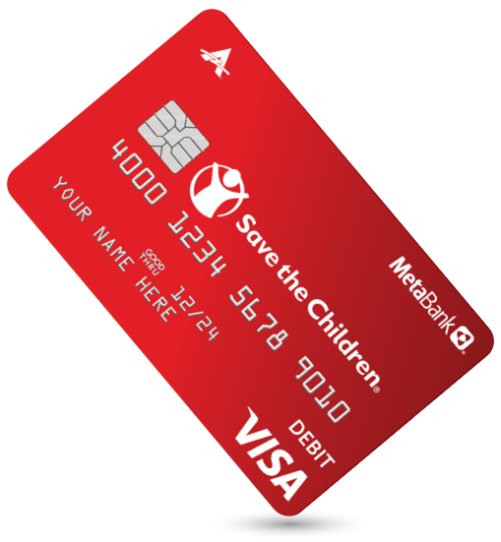 Across the United States, more than 14 million children grow up in poverty. Since 1932, Save the Children has been on the ground providing support to the most isolated and underserved children in rural America. They help the nation's most vulnerable children get ready for kindergarten and excel by third grade – so they can succeed in school and in life.
We Take Giving Back Seriously
---
Community is a huge part of who we are. That's why we work hard to spotlight the organizations in our Chip in for Charity program and help share their message at every opportunity. Learn more about our program on the Flare Account blog.
visit the blog
Same Flare Account. New Ways to Give Back.
---
The classic Flare Account Debit Card offers banking services that make money management convenient. With a Charity Debit Card,4 you'll receive the same benefits, plus the opportunity to benefit others.