As children, our first love, first friend, and first teacher went by one name: Mom. Each Mother's Day, we set aside a day to honor everything moms have done for us and to support them with love (and the perfect gift!).
For moms who are battling breast cancer, this Mother's Day may be harder than others. Fighting cancer is one of the toughest journeys anyone can go through, and with additional hospital safety restrictions due to COVID-19, many moms who are undergoing chemotherapy may not be able to see their children in person this Mother's Day.
National Breast Cancer Foundation, Inc. (NBCF) knows how hard the journey can be. For 30 years, they have empowered and supported those affected by breast cancer to let women know: you are not alone.
This May, in honor of Mother's Day, we're partnering with NBCF to provide a token of comfort and encouragement to 95 women who are currently undergoing breast cancer treatment.
Tell Us About a Woman You Love for a Chance to Win
If a woman you love is undergoing breast cancer treatment, we want to help support her. Through this giveaway, open from May 1 – 31, we're accepting submissions from anyone who wants to nominate a woman to receive a HOPE Kit, a box filled with items that bring warmth and comfort on her journey. We will randomly select 95 entries to receive a HOPE Kit at no charge. It's easy to get started.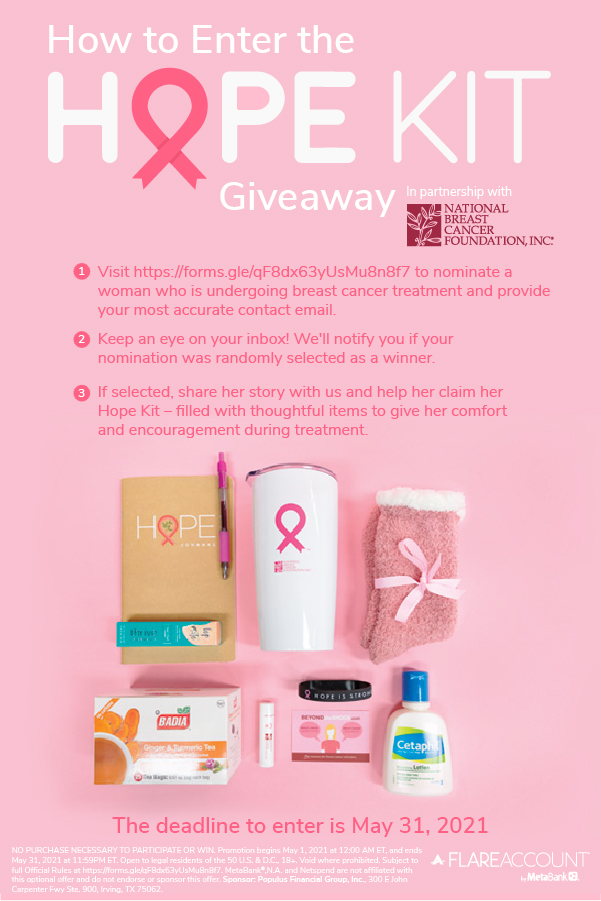 Here's What You Need to Know:
Giveaway starts May 1, 2021 at 12:00AM ET, ends May 31, 2021 at 11:59PM ET
Open to residents of U.S. and D.C. age 18 or older
Free to enter – no purchase necessary
Visit https://forms.gle/qF8dx63yUsMu8n8f7 to enter
Confirm that your nomination supports the goal of supporting patients currently undergoing breast cancer treatment
95 honorees will receive 1 HOPE Kit
Prize cannot be exchanged for cash alternative
Honorees will be selected at random on or about June 7, 2021
Giveaway in partnership with National Breast Cancer Foundation
What is a HOPE Kit?
HOPE Kits from NBCF are tangible expressions of hope, providing comfort and encouragement to women undergoing breast cancer treatment. These hand-packed kits are filled with special items, including but not limited to:
Fuzzy socks
Tumbler
Tea
Thrive Causemetics™ product
Unscented Lotion
Unscented Lip Balm
Facemask
HOPE Journal & Pen with educational resources inside
Inspirational Bracelet
These items offer extra care to women who spend long stretches of time in hospitals. They are a small reminder that every woman is supported, cared for, and cherished.
Click here to learn more about the HOPE Kit.
The HOPE Kit is valued at $50 and has real meaning for the women who receive it. Through our giveaway, in partnership with NBCF, we want to donate 1 of these incredible boxes to 95 special women in treatment today.
We Support National Breast Cancer Foundation's Mission
ACE Flare® Account by MetaBank® supports NBCF's mission to provide resources, early detection services, and support for women at every stage of the breast cancer journey.